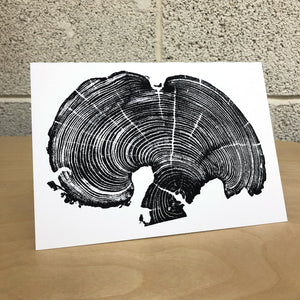 A high quality ink jet print, based on an original relief print of a section of fallen Bois D'Arc tree salvaged from the Brooks Ranch, near Evant, Texas.  Print by Amy Pattillo.  
The card features a high quality ink jet rendering of an original works of art, printed on an 88 lb thick matte paper stock, with accompanying white envelope and protective clear sleeve.
5"x7" card, envelope, clear sleeve
For packaging, each card is enclosed in a clear protective shield.  As a small business that has options for pickup, local delivery, and shipping, we don't absorb delivery and shipping costs into our product prices.  We've done our best to set the shipping algorithms to choose the lowest cost shipping options available, but if you reach the checkout cart and the shipping seems unseasonably high, please contact us and we'll see if we can find a way to package things a different way to save money on shipping costs.  We've learned a lot about shipping in the last 4 months and many of the shipping carriers charge by zone, so things that are shipping farther away from Texas will cost more, but sometimes the algorithm doesn't put everything in the smallest b. 
Local Pick-up typically available within 2-5 business days of purchase from our studio at 4201 South Congress Avenue, Suite 311.  Pickup hours are by appointment once your product is ready.  We can generally schedule an appointment M-Sat between 9 am and 6 pm.
Local Delivery typically available within 2-5 business days of purchase.  We offer local delivery in a limited number of zip codes in the Austin area (78701, 78702, 78703, 78704, 78705, 78721, 78722, 78723, 78731, 78741, 78745, 78746, 78751, 78752, 78756, 78757, 78758).  The local delivery cost includes the courier fee + the packaging cost.  If you are in the Austin area and your zip code is not listed, please select the local pick-up option and then contact us for local delivery rates - our courier will deliver outside the zip codes listed for an additional fee. 
Shipping orders typically go out within 2-5 business days of purchase.  
FINAL SALE.  NO REFUNDS OR EXCHANGES.