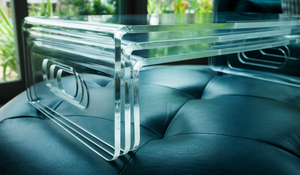 A NESTED set of one SMALL, one MEDIUM, and one LARGE acrylic lap desk in our 2021 Lap Desk version.

Our 2021 Acrylic Lap Desk design builds on the beautiful, functional desk and bed tray we produced in 2020.  Each lap desk is flame polished and hand bent to one of 4 sizes, with a selection of cup hole options or no cup holes.  Designed by Jon Pattillo // fabricated in the AvecMode Studio on South Congress Avenue.
In 2020, we had surplus material available for upcycling.  We don't have this surplus material in 2021, so the desk prices for the 2021 version have increased to include the cost of acrylic.  In addition, the desk version we sold in 2020 had a removable insert - we've removed this design feature in the 2021 version.  Our small lap desk is only available now in this nested set of one small, one medium, and one large.
SMALL: 5.5" tall x 22.5" wide x 15" deep / 7.5 lb (available in nested set only)
MEDIUM: 6.5" tall x 24" wide x 15" deep / 7.8 lb

LARGE: 7.5" tall x 25" wide x 15" deep / 8.6 lb
FINAL SALE.  NO RETURNS OR EXCHANGES. 
- Clear molded 3/8" acrylic (Please note that acrylic is not scratch resistant and the surface will scratch during use.  Each lap desk is individually cut and then hand polished and bent, to order, and may vary slightly from product to product, with some minor surface scratches to the acrylic expected during the fabrication process.)
- Hand wash and dry with a soft cloth towel or gentle window cleanser.  
March/April Order Window - Desks ordered in March and April are on a 2-4 week production timeline.    
Local Pick-up is from our studio at 4201 South Congress Avenue, Suite 311.  Pickup hours are by appointment once your product is ready.  
Local Delivery is available to a limited number of zip codes in the Austin, Texas area (78701, 78702, 78703, 78704, 78705, 78721, 78722, 78723, 78731, 78741, 78745, 78746, 78751, 78752, 78756, 78757, 78758).  The local delivery cost includes the courier fee.  Lap desks will arrived wrapped in a foam protector.  If you are in the Austin area and your zip code is not listed, please select the local pick-up option and then contact us for local delivery rates - our courier will deliver outside the zip codes listed for an additional fee. 
Shipping orders go out through UPS Ground.  The lap desks are bigger than the standard boxes offered by shipping carriers.  We include the cost of the box itself ($3) and the cost of the UPS Ground shipping, in the calculated cost for shipping.  UPS Ground is the most cost effective way we've found to ship our desks in the continental 48 states.  If you are placing an order from Hawaii and Alaska and would like to work with us on alternative shipping carriers that may be less expensive, please contact us.